In late May 2018 we visited the Lofoten Islands in Norway for a 10 day holiday.  The Lofoten Islands are situated about 68deg North, just inside the Arctic Circle, so not exactly a sun-bathing location.  However the islands are much warmer than their latitude suggests due to the action of the Gulf Stream, the scenery is spectacular and from late May (when we visited) the sun never sets.  This provides a long period of sunrise/sunset which is ideal for Landscape Photography, so the islands are well know as a Photography destination.
Our Itinerary
Our itinerary was pretty simple.  First a flight from Manchester to Oslo, then a flight on to Harstad-Narvik Airport where we picked up a hire car followed by a short drive to Harstad where we arrived close to midnight.  The following day, we drove to Kabelvag, close to the main town of Svolvaer on the island of Austvagoya, where we stayed for 3 nights.  After that, we drove on to Hamnoy on the island of Moskensoya for four nights.  Our stays in Kabelvag and Hamnoy were in Robruer Hotels – hotels made up a collection of fisherman's huts – both of which had spectacular seaside locations.  On the last day, we had a long drive back to Harstad, before flying home early the next day.
As mentioned above, the climate of the Lofotens is much warmer than the latitude suggests.  Even so, the temperature was generally around 10degC during the day, and with a cool wind most of the time a couple of layers of warm clothes was always required, except for one gloriously sunny day towards the end of the holiday.
---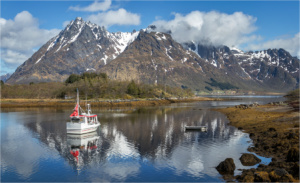 Day 1 - Harstad After a late evening flight from Oslo, we arrived at the hotel a bit before midnight.  ...
Read More